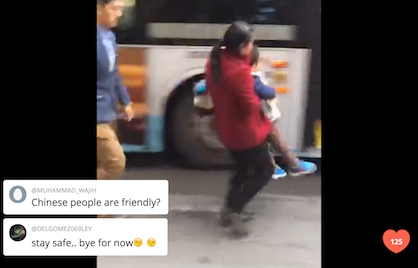 Sharing a bit of China on Periscope can be a bit of fun. I get viewers all around the world and I'm reminded how much people don't know this country. There are a lot of stereo types and I don't blame the audience because I had those same view points before I ever visited this country.
Number one question are viewers concern with my safety. Asking if it's alright for me to video people on the street. A lot of people ask if people are friendly and that I should be careful. The great thing about periscope is I can interact with them directly. So in the case someone asks about people being friendly, I will immediately demonstrate how easy it is to have a conversation with anyone. I usually approach someone, say hello and have some small chit chat. Of course lots of  viewers are just blown away by the many smiles they see and this is why I like doing this. It's my small way to build global connections, make our world a little smaller and maybe create opportunities for peace.
UPDATE May 2, 2016 Katch has lost VC funding and is shutting down. All videos have been transferred over to YouTube.